1.Sidebar Windows Sidebar is a new panel on the right-hand side of the screen where a user can place Desktop Gadgets, which are small applets designed for a specialized purpose.
Desktop Sidebar created by Sidebar XP is a nice and free application ready for Windows XP. It offers all kind of utilities like: search bar, Winamp panel, disk monitor, media player, inbox panel etc. No charge! Google Desktop is another solution. Desktop Sidebar is another FREEWARE.
2.File Indexing & Searching GoogleDesktop is more than just a sidebar,it is also an indexing tool.Another well-known indexing tool is Copernic Desktop Search2
3.Taskbar Visual Tips Visual tooltips are small visual previews of windows;they appear when you move your mouse pointer over an item in the taskbar.
Download Visual Tooltip
4.Getting Vista Look For custom themes to work on windows XP, you first need to patch the UXTHEME.DLL.Download that from Softpedia. Run the patcher and cancel any warnings about Windows files.Windows files being replaced.Reboot,and you'll be able to use custom themes.Copy the theme files you download into C:\Windows\Resources\Themes.Double-click the theme file to preview the theme.In the Display properties window, click on Apply to apply the theme.Sites link http://www.themexp.org & http://www.deviantart.com/ have loads of themes.
5.Vista Start Menu Vista Start menu Emulator is a little application that brings Vista's Start Menu.A very good alternative to Vista Start Menu is called Vistart
6.Flipping Windows Top Desk is a neat little utilty that allows you to get the effect Vista gives you when you multitask between applications.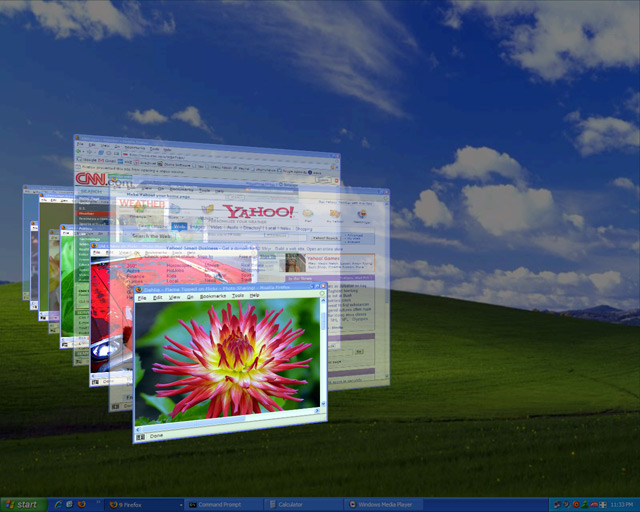 Here's Shock Aero, a Flip-3D effect simulator that you can use in Windows XP
7.Performance Boost Ready Boost is one of the Vista's performance boosting features.For ReadyBoost youcan find a commercial software called eBoostr. Once you have the program installed, reboot the computer.Start the program, and you can now add a Flashdrive that you want it to use.Enter the size of the cache file you want to use.
8.Media Player 11 Vista came out with Windows Media Player 11, but Microsoft also has it out for XP.It is available for free download from Here
9.Internet Explorer 7 IE 7 is NOT Vista limited! It can be installed on your Windows XP free of charge with just one condition: the Windows XP you are running must be genuine. To obtain a free copy of the new IE browser, click here!
Category: Desktop Enhancements, Tutorial, Utility, Windows