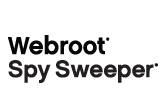 Register now to receive your FREE 12-month Spy Sweeper subscription:
1. Go to Webroot and sign up to receive your free unique registration number (only name and Email ID required)
2. Download the Spy Sweeper software.
3. Install the software with the registration number.
NB: This free software is only for personal use and not intended for business use.
Category: Antispyware, Appz, Freeware