F-Secure Antivirus.

here Pass:uncell@3rdEdition

McAfee VirusScan Mobile v1.11
Secure your mobile device from viruses, and other malware
Updates automatically to protect against new threats
Prevent the spread of viruses to coworkers, friends, and family
Stay connected to friends and family when you are on the gon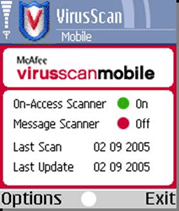 McAfee® VirusScan Mobile provides the leading solution for real-time protection against viruses, worms, dialers, Trojans and battery-sapping malware providing a safe mobile experience.
VirusScan Mobile is the only product designed from the ground-up for mobile protection. It protects against the threats that originate from e-mail, instant messaging, and internet downloads. Your device will be protected from SMS, MMS, Bluetooth and other entry points.
This product delivers a safe and worry-free mobile experience for your mobile life. Up-to-date protection is delivered as soon as threats are identified Installation is fast and easy. VirusScan Mobile brings the ultimate in mobile device protection.
Compatible With: SymbianOS 7&8
Nokia 3230, Nokia 6260, Nokia 6600, Nokia 6620, Nokia 6630, Nokia 6670, Nokia 6680, Nokia 6681, Nokia 6682, Nokia 7610, Nokia N70, Nokia N72, Nokia N90, Panasonic X700, Panasonic X800, Samsung SGH-D720, Samsung SGH-D730

Download Here:

here

Newsest version of best Antivirus programs for Symbian OS based Mobiles:
F-Secure Mobile Anti-Virus
Kaspersky Anti.Virus.Mobile.v2.0.32b
McAfee VirusScan.Mobile.v1.11
Norton Anti-Virus v1.2.2
Simworks_AntiVirus_v1.2.1
Symantec Mobile Security
SymMS_S60_70s
Size: 1.70mb
40 Applications for S60
Adobe PDF 1.1.5 (read PDF)
IM+ 5.50.0 (messenger for Hotmail, Yahoo, ICQ, Gmail, etc)
AgileMessenger 3.76.0 (messenger for Hotmail, Yahoo, ICQ, Gmail, etc)
Wireless IRC 2.0.686 (irc client)
Alarm Manager 1.4.1(set multiple alarm)
Best BlackList 1.0.0 (black list unwanted calls)
FExplorer 1.16.0 Beta (symbian file explorer)
FGet 0.70.0 (download manager with resume support)
Flash Player 2.0.1 (play Flash files)
Handy Expense 2.2.0 (keep track of daily expenses)
Internet Time 1.4.0 (synchronize clock with internet time)
Mobipocket Reader Pro 5.1.532 (read eBooks)
MSDict - Oxford Concise English Dictionary 2.40.0 (dictionary)
My Assistant 1.2.726 (dictaphone & auto keylock)
NiceCalc 1.0.1 (scientific calculator)
Quickoffice 2.3.6.0 (read/write Word, Excel & Powerpoint)
OfficeSuite 2.10.0 (read/write Word and Excel)
Opera 8.60.0 (internet browser)
PanoMan 1.19.0 (taking panoramas images)
Papyrus 1.108.0 (advance calendar & todo)
PhotoRite SP 5.30.0 Beta (advance camera with frames, mirror effect, etc)
PowerMP3 1.1.0 (music player with equalizer)
PhonePoint 2.0.0 (powerpoint remote control over bluetooth)
ProfiMail 2.40.0 (advance email client)
PuTTY 1.4 Beta 1 (SSH client)
Resco News 1.13.0 (RSS reader)
SmartMovie 3.21.0 (DIVX & XVID player & Converter)
Best ScreenSnap 1.1.0 (screenshot)
Torch 1.10.0 (torch light)
VirtualRadio 1.0.4 (online radio streaming)
Mobiola WebCam 1.4.0 (enable n70 to be a web camera for windows)
WinRAR 2.50.10 (compress/uncompress zip and rar)
WmaOGG Plugins 1.1.0 (plugin to enable wma and ogg support)
WorldMate 2.60.40 (world clock, weather forecast, currency rate, etc)
Zi Predictive Text Suite 1.4.0 (auto complete text while typing)
123'sMMCfonts 1.19.0 (enable reading of chinese fonts)
ChessGenius 1.40.0 (english chess)
Experimental Chinese Chess 1.1.1 (chinese chess)
Anti-Mosquito 2.1.0 (anti mosquito program)
here Pass:mechodownload