If you have a very long web site URL, you can easily shorten it using SnipURL, TinyURL.com or URLTea.com .Shortening the URL would be a good service because visitors would be able to remember your web site name.The bad thing with long addresses is that they get shortened--and therefore, won't work--in some email programs. A short URL eliminates that problem.
SnipURL
Comes with a bookmarkable javascript
Snipped URLs are permanent and the link they point to can be edited if they change.
The snip URL can be customized to include a nickname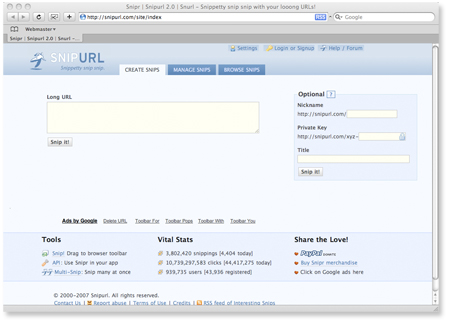 TinyURL
Has a Firefox plug-in that makes its use just easy as pie. The Firefox plug-in allows you to create a TinyURL for either a web page you're viewing or a link you're right-clicking on. This makes it super handy.
You can also put it in your bookmarks instead of the links toolbar.
Click and drag the following link to your links toolbar.
URLTea
This program seems to lack a Firefox add-on ,but you can add a javascript to your browser that allows you to convert the page you're looking at to a short URL. This means you have to be on the page you want to get the short URL for.
One neat feature is that URLTea automatically copies itself to your computer's keyboard, so it's really one-click switch from a long to short URL.
You can add descriptive words after the shortened URL by interposing a question mark between the url and the descriptive words
Following is a list of URL shortening sites on the Web:
   Site Name            URL

   Baby URL             www.babyurl.com.
   Metamark Shorten     www.metamark.net.
   Not Long             www.notlong.com.
   Quick URL            www.qurl.com.
   Shorlify             www.shorl.com.
   Tiny Link            www.tinylink.com.
   URL Cut              www.urlcut.com.